Hope everyone is having a fantastic weekend. It is Sunday Social time!! Link up with Ashley and Neely.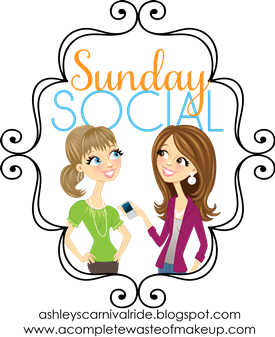 1. What is one movie you are terrified to watch?
Pretty much any scary movie such as The Ring or anything that might have something jump out at me. Yeah, no thank you, I'd prefer not to scream and pee my pants.
2. What is one TV show you have always wanted to get into but haven't yet?
Downton Abbey. I just haven't really put the effort in to catch up on it.
3. What is one daring activity on your bucket list?
I do want to skydive. Even if they would probably have to push me out of the airplane, I'd like to do it once and say "ok, never again".
4. Would you ever travel alone?
Absolutely. I have traveled to/from a lot of places by myself. I flew to/from France alone. My cousin was in Paris to meet me, but still I had to navigate alone which isn't easy when you don't speak any french whatsoever. But, I think there is something nice about traveling alone (just as much as traveling with people). You aren't on anyone else's schedule or agenda, and the decision on what to do/eat/etc is solely on you.
5. What activities do you like to do alone?
There is seriously something wrong with me, considering I had a momentary inappropriate/dirty thought. But, truthfully- shopping is much easier alone and driving. I love to sing loudly and dance alone in the car, and having people in the car with me seems to impede that.
Hope everyone continues to have a good weekend. Happy Sunday! :)