We continue to dig out, because goodness knows we got 3 feet of snow and it really has nowhere to go. Oh and they haven't even plowed the side street. I am getting a little stir crazy knowing I can't leave. Even though I there is a million things I COULD be doing. So I linked up with Neely and Ashley as my usual for Sunday Social. Hopefully by tomorrow things will be closer to normal (although I doubt it!)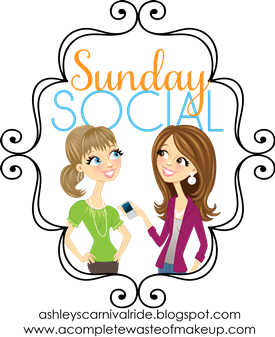 1. What was your first car?
It was a blue Subaru wagon that my brother had affectionly named "sh*tmobile". I basically told him that if continued to call it that, his freshman a$$ would have to walk to school. Yeah, that didn't go over well with my parents.
Looked a little like this one, just with a whole lot of rust around the wheels:
2. Who was your favorite childhood teacher?
Ms. Testa- my 3rd grade teacher. She taught me multiplication and she wasn't all that old but she was so loving and gentle, while being such a great teacher. She cried when we gave her a picture album/collage at the end of the year.
3. Were you involved in any sports/extracurricular activities? Share pictures if you can!
Basketball 7th-10th grade. I wasn't very good but I was a starter in middle school, and a starter of freshman and JV teams. I played occasionally with varsity, enough to get a varsity letter my sophmore year of high school. But, I didn't play junior/senior year. I mostly did music while in high school. Lots of choir.
4. What was your favorite birthday party?
I had some fun sleepovers in middle school. I don't know if one birthday party sticks out. Actually I take that back- the "makeover" party when I was in 5th grade. We all got our hair/nails/makeup done. It was a lot of fun (and so incredibly girly)
5. Who was your teen celebrity crush?
6. What show/movie did your parents not allow you to watch?
Well, I wasn't allowed to watch the scary movies like Friday the 13th and all. BUT at a birthday party when I was like 8 or 9, we ended up sneaking the movie in as well as Chuckie, and I had nightmares for days. I still remember HIDING behind the coffee table with 3 other girls because we were terrified. I would like to also mention that was the first time I had ever seen/heard/known about anyone having sex (hello scarred for life at the time) because the opening scene of one of the movies was 2 characters going at it in a barn or something. Definitely not one of my favorite birthday parties I had attended.