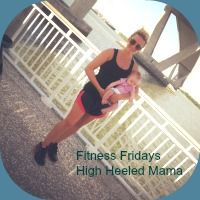 Linking on up with Noel again this week for Fitness Friday!
Since last week I have done a pretty good job of keeping up with tracking food and workouts in my FitBook. Workout-wise I have done pretty well, going to the gym 3 times so far this week- Sun, Tues, yesterday, and I have plans to go today.
I have done mostly 35 minutes of the elliptical followed by weight training. Sunday was upper body/abs, Tuesday was lower body/abs, and yesterday was upper body/abs. I was pleasantly sore....especially on Wednesday. My glutes were a little sore, but I believe that it is a good thing :) It is proof that you worked hard.
I posted pictures on Instagram of my elliptical because, well, I am trying hard and know that it keeps be all sorts of accountable in a way. Even went yesterday despite being exhausted and feeling awfully bloated. (Did I mention being a female isn't so much fun sometimes...)
Next week my goals are to not only keep up going to the gym, but maybe incorporate some of the classes my gym offers. I need to focus then on my eating habits and maybe add some yoga too. I don't want to overload myself, but I also know that unless I workout most days, I won't see the kind of weight loss I would like to see.
My inspiration to you:
How was your week in fitness? Any eating/nutrition tips for me?