It's Sunday again. Which means I am linking up per usual with
Neely and Ashley as usual!
Check it out! :)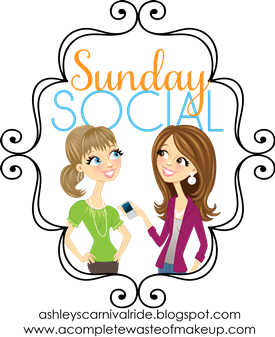 1. What is your ideal way to relax?
It depends. But, mostly I am reading on my iPad or watching mindless television. Music is also a pretty good relaxer for me. Listening to it, playing it, singing, etc.
2. Where is your favorite place to be?
My bed. haha. Although, anywhere with my friends and family can be considered for this too. Even the crappiest setting can be made better with the right people.
3. Who do you consider your biggest role model?
As cliche as it may be, my parents. They are hardworking, trustworthy, loyal, and caring people. They've also been married for 30 years and have shown me what true love, real love is and how a relationship is supposed to be.
4. What does your life look like in 3 years?
Hopefully I am happy and content. Thinner/fit/healthy. Still working, maybe part time, as a pediatric nurse. Financially stable. But also- I hope my event planning has gone in a positive direction, even if small. In a realtionship. At peace with myself and my decisions...and not at all scarred by the fact that I will be over 30 years old haha.
5. If you could go back and change one decision, what would it be?
Some of my financial decisions. I can't even say I would change my decision to go to school for music or nursing. In either instance, it was the right decision for me at that time. Maybe I would have decided my ex was a douchenozzle way sooner that I did...but even that has it's own positive points (ie I learned what NOT to expect in a good relationship and how I SHOULDN'T be treated)
6. What is your biggest accomplishment in life so far?
Moving to NYC at 17 and not running back home immediately afterwards. I managed to live in NYC for 5 years before I had to move back home for financial reasons. I would also say getting BOTH of my degrees were pretty big accomplisments that I am proud of, and for very different reasons. My NYU degree was difficult and challenging, as well as the fact that I was able to attend such a prestigious university. My nursing degree was difficult and grueling, and on the completely other end of the spectrum for content than NYU but I was able to finish and do well.
Hope everyone is having a fantastic weekend!