As you all know already, one of my big resolutions is to get my butt in shape (pun intended). Noel (
High Heeled Mama
) has started the "Fitness Friday" link-up, and I intend in delivering awesome content about how my fitness lifestyle is going and such.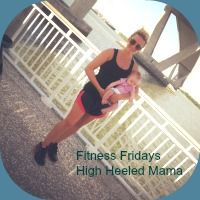 This week has been a new adjustment to working out. I haven't gone to the gym but I've done so e at-home circuit training.
I have always been active in some way growing up. I have played a gazillion different sports in my life: dance, tee ball, softball, gymnastics, swimming, cheerleading, figure skating, and basketball. I have unfortunately become LESS active the older I have gotten. I lived in NYC and walked everywhere, which was nice, but I didn't really workout during college. I never got into that sort of habit. So, naturally when I graduated, I wasn't very active. Add a toxic relationship to the mix, and I became a bit of a couch potato.
My goal is to no longer be a couch potato. I don't have any lofty goals yet like running a 5k or something. My ultimate goal is just to get healthy and lose weight.
I have had a gym membership for a while, but fell out of practice going. I enjoy kickboxing, spin class, yoga, zumba, and even weight lifting. I look forward to getting back into it.
My goal for this coming week is to get to the gym at least 3 times. Completely doable. I know that I have to push myself and keep my eyes on the prize.
I know that I can do anything if I put my mind to it. I remember what it felt like when I was active and healthy, and I want to feel like that again!